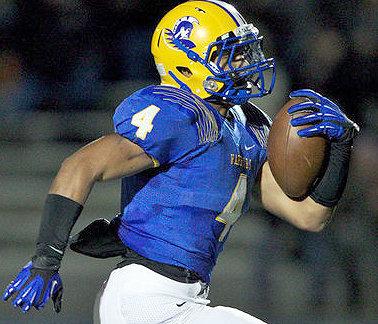 Forgive Sports Illustrated for being misinformed.
Yes, De'Anthony Thomas is the fastest man in college football. That's obvious anytime you watch him in the open field.
But he's not the fastest man in football, as SI dubbed him on its cover this week. He's not the fastest man in football IN Oregon.
That title goes to his soon-to-be teammate, Thomas Tyner.
Surely you've heard of him by now. He's the guy who rushed for 644 yards and 10 touchdowns last week. You know, he crammed that attention-getting four-game stretch into four quarters on his 18th birthday.
When Tyner steps foot on campus in Eugene next season, he'll prove Oregon's cheesy "Yesterday's fast is today's slow" axiom to be true.
Instead of having the fastest man in football, the Ducks will have the fastest backfield ever assembled.
Thomas is lightning fast – there's no denying that. Any team is happy to have a jitterbug running back who can run a 10.57-second 100 meters.
As a high school sophomore, Tyner set an Oregon prep record in the 100 at 10.35.
That's right, he's faster than the so-called fastest man in football.
He's bigger too. At 6'1, 218 pounds, Tyner should be able to better absorb punishment than Thomas. Tyner is bigger, but he has shown some susceptibility to injury. Chances are he won't be an every-down back as a freshman.
The slender Thomas isn't suited to be a traditional tailback either.
Then again, when have Chip Kelly and Co. cared about tradition? Nothing about having two elite sprinters who can juke defenders out of their jocks seems conventional. But for Oregon's up-tempo offense, it seems perfect.
Tyner becomes yet another weapon Kelly can deploy whenever he feels like putting a game out of reach.
When Kelly decides to put Thomas and Tyner on the field at the same time, there is not a defensive coordinator in the country who won't be searching for clean undies. Once either one of them hits a seam, he's gone.
Next season is a long ways away, and plenty can happen between then and now. But while reading about Tyner's monstrous performance Friday night and watching Thomas dart through hapless (albeit Tennessee Tech) defenders as if they were standing still, it's hard not to imagine the possibilities for next season.
It might take a while before we see them on the field together. But once they're there, things are going to move fast.