Scott Rueck: You Probably Don't Know Him, But You Probably Should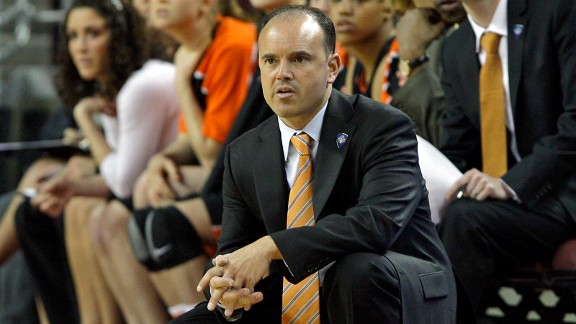 At 5' 4", Scott Rueck doesn't cast a very big shadow, nor does his resumé, but what he has done and what he is doing since his arrival at Oregon State less than 2 years ago not only commands respect, but should be recognized as one of the premiere reclamation projects in recent Oregon sports history.
Overstated? Not really, considering upon his arrival July 1, 2010, Rueck inherited a roster consisting of 2 players. Not 2 returning starters, not 2 upperclassmen and not 2 lettermen, but the only 2 remaining players from a regime which had forced the exodus of 23 people - including 15 players, four assistant coaches and four support staffers – in its previous four seasons. Since then, the Oregon State women's hoop team has amassed a 27-29 overall record, 11-23 conference record, and currently sits in 4th place in a Pac-12 conference thought by many to be out of Rueck's league.
Rueck, an Oregon native, came to Corvallis via a 14-year stint at Division-III George Fox, where he won more than 75% of his games, a Division-III national title, and the 2009 National Coach of the Year honor. His hiring two years ago was thought by many to be a desperate measure during a most desperate time. While the university spoke to his allegiance as an alum and his impeccable record at not a second, but third-tier school, most interpreted his hiring as a frantic decision by an athletic department with few options. LaVonda Wagner – the previous Oregon State head coach – had damaged the program to such an extent; it was difficult to imagine any reputable coach or potential up-and-comer risking their career or potential for one, at a place and as part of a program seemingly starting from square one. So when word of Rueck's hiring hit the streets, many considered it a poignant indication of the depths of the programs deterioration, rather than a shrewd move by an Athletic Director looking for a leader.
Boy, were they wrong.
Coach Rueck has built his career based on a couple simple principles: Hard work and building a family atmosphere. He wants his kids to "love every day," and "like him all of the time." He believes that due to such his players trust in his methods and understand why, when he's teaching, coaching or even getting on their case. He seems to appreciate the importance of "team," and as a result they bear the fruit of such.
Last year's OSU women's basketball team was predicted by many to go winless; they won 9 games. This year's OSU women's basketball team was picked to finish last amongst the 12 constituents; they're currently 4th. Does that sound like a "mistake" to you?
This isn't Chip Kelly taking a good team and making it great, after-all he had the players, the infrastructure and the support of a previously successful program. This isn't George Horton taking the reins of an idle Oregon baseball program and getting them to the post-season in their second year, after-all he's a legend of the college baseball world. And this isn't Mike Riley leading Beaver Football to its first winning season in nearly three decades, after-all he came from USC and had a foundation of players to work with. This is a Model-T beating half the field in the Daytona 500. This is a middle school long jumper qualifying for the Olympics. And this is Dirk Diggler going from a run-of-the-mill waiter, to the world's most popular…well…forget that one, but I think you get the point.
When LaVonda Wagner was so unceremonially relieved of her duties, I remember thinking how incredibly difficult it was going to be for Oregon State to fill that position. I also remember chuckling aloud when hearing of Scott Rueck's hiring. I didn't think anyone would be able to resuscitate that program, and if they were to, it would certainly take the better part of a decade to do so. How could a Division-III coach not only convince recruits to come to OSU, but how could he then get them to play at a level worthy of respectability in a Pac-12 environment? The answer is simple: With hard work and through building a family atmosphere.
Congratulations to Scott Rueck; you probably didn't know him, but hopefully now you do.