You've Made It! LaMarcus Aldridge FINALLY An All-Star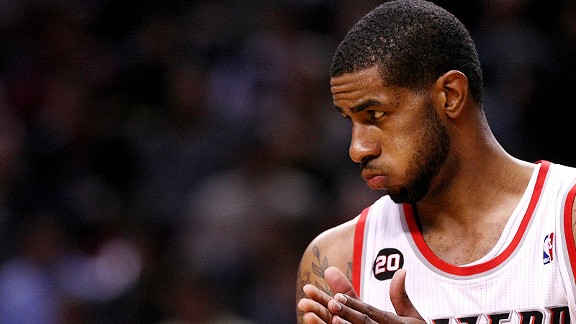 LaMarcus Aldridge has finally gotten his due for his contributions to this Trail Blazers team. He has been a big part of turning this team around. Since his second year in the league, he has been putting up solid numbers (averaging just over 19 PPG and 8 RPG in that span). With the Western Conference being packed with forwards, he has been left out year after year. He has become the leader for this team since the fall of Brandon Roy. I felt that he was just as deserving last season as he has been this season.
The Blazers now officially have an all-star again, but what's next? How can this team build around their all-star? What steps should be taken to make the team better, not just now, but for the future?
There are two things needed at this point, a point guard and a center. For both positions we need either a young, up and coming guy, or a proven player that has some years left.
Let's start with the point guard situation. I WAS a believer in Raymond Felton coming here. It has not worked out the way anyone would have liked it to. Felton has been sloppy and he has shot the ball poorly.
However, I believe that he has the ability to become what this team needs him to be. I think this starts with Nate McMillan. The offense he has tried to run doesn't work all the time. He wants to run, and run at all times. But Felton gets out of control when constantly running at full speed. I think they need to slow it down more at times. Still run when the fast breaks are there, but start running some more pick and roll sets between Felton and Aldridge in the half-court offense. I feel that pick and rolls were something that Felton did well in New York with Amare Stoudemire last season. This is something I haven't seen much of in this Blazers offense. It's just give the ball to LaMarcus, isolate, and let him go to work. The other players get lost as they sit and wait.
Let's move on to the need of a center. Let's face it, Greg Oden is done. Marcus Camby and Kurt Thomas are the oldest big men in the league. We can do just fine with these two guys for the rest of this season – assuming that they can stay healthy. The reality is that these guys are not getting any younger. We need someone that can replace them, as they both may retire at the end of the season.
A guy like Roy Hibbert would be a solid free-agent signing if he doesn't resign with the Pacers for next season. If he does, then the draft is where the Blazers should start looking. This year is believed to be one of the deepest drafts in a while. I like a guy by the name of Andre Drummond. He is a freshman center at Connecticut – if he leaves early for the draft then he is a guy that they should take look at. I also like a guy out of Louisville who held Drummond to basically nothing in a victory this past Monday – sophomore center Gorgui Dieng. Both of these guys could become solid big men in the NBA.
Back to the point guard position, if Felton can't get it together by trade deadline, we have to move on and start looking at other players – either through a trade at that point, or a free agency signing for next year. While looking at possible free-agents, two point guards that could be in our price range are Mo Williams and Jameer Nelson. We may have to go after someone much better. Could having an all-star like Aldridge bring in a more talented player like Deron Williams? I guess we will have to wait to find out.